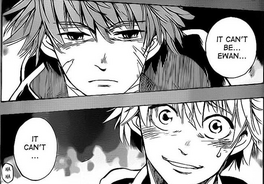 Chapter 22: Divided Seed
Unmistakeably, Ewan is holding Patchman's wheelchair; the King is back. While Arago tries to understand the situation, Ewan tries to speak, telling Arago to run away. This infuriates Arago and he dashes towards Patchman despite Seth's warnings. Arago winds up for a massive attack against Patchman only to be stopped by an equally powerful, Black Brionac. Patchman tells Arago that he took the Brionac and divided it into two Seeds and that Ewan is only alive because of the Black Brionac, and if Patchman dies his twin brother dies with him.
Ad blocker interference detected!
Wikia is a free-to-use site that makes money from advertising. We have a modified experience for viewers using ad blockers

Wikia is not accessible if you've made further modifications. Remove the custom ad blocker rule(s) and the page will load as expected.